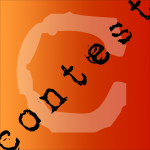 UPDATE: A big 'thank you' to all who have already entered the contest. Each one of you is brilliant and beautiful (and/or handsome) and deserves to win for your writing skill, apparent compassion and Santa-Yoda covetousness. Now, tell all your friends, okay? (Don't worry, they're not quite as talented as you are. No way they can win that Santa-Yoda. But by asking, you'll make them feel special. And that's a good thing.)
I tend to get a little bit depressed sitting alone in my tiny garden-level apartment writing these blog posts, wondering if anyone out there in the Interworld cares about the blood, sweat and tears that I pretend to spill out over each word. I started thinking, "How can I be less depressed?" My first thought was "Kate Beckinsale."
So I watched the Underworld movies.
That helped for a little while, but about halfway through Underworld: Evolution, I remembered that Kate is a famous actress married to a successful director and that I'm a struggling editor who lives alone in a tiny garden level apartment.
I decided instead to hold a writing contest. I know. Duh! Why didn't I think of that first?
It's a simple contest. All you have to do is write a scene in which a wristwatch plays a key role. That's all I'm gonna give you. The rest is up to you. Write in any genre you want. Be funny or serious, scary or romantic. Whatever. You have up to 200 words to create the most compelling scene possible. I'm not looking for a fully-fleshed-out short story. Just a single scene. Write something that will make your reader (me) hungry for more.
When you've crafted the perfect scene, click here and email it to me. (Just copy it into the body of your email. Attachments scare me. Well, that, and the word itself reminds me of my abject singleness. Which in turn, depresses me. And that defeats the whole purpose of the contest now, doesn't it.)
A few rules:
The actual word "wristwatch" doesn't need to be included in your scene, but a wristwatch does need to play a recognizable role in it.
Only one entry per person. (Exception: If you have a note from your doctor to support your claim of Multiple Personality Disorder, you may enter once for each documented personality.)
Entries will be judged by a panel of publishing experts and winning scene will be chosen based on originality, writing skill, creative use of the wristwatch and… okay, okay. I'm kidding. I can't afford a panel of experts. It's just gonna be me and a whim.
I may choose to analyze your scene right here in front of everybody in a future post. But don't worry, I'll ask first.
I reserve the right to change these rules at any time if I've forgotten something.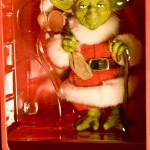 Oh, the prize? One winner will receive a $40 gift card to either Amazon.com or Starbucks (winner's choice). But that's not all. The winner will also* get the amazing Yoda Santa decoration pictured here (which I mentioned earlier was a gift from author Tosca Lee, so please don't tell her I'm re-gifting it). And… the winner's scene will be featured in a future post on the soon-to-be-world-famous noveldoctor.com.
Entries must be received by Friday, June 19th at midnight (mountain time). I'll announce the winner on Wednesday, June 24th.
*To avoid a disturbance in the force, Yoda can only be shipped in the United States. So if the winner is from elsewhere, content with the gift card the winner must be.