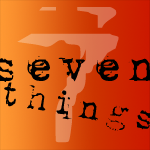 It's still Sunday in my world. What day is it where you are? And what's the future like? Do we all have jetpacks yet?
While I continue to be consumed by my editing work, I thought I'd give you seven excuses for not writing. Because, as we all know, these excuses play a key role in our efforts to cut our dreams off at the feet. Without them, we'd be writing all the time and getting better at it and paving the way for a successful future as published authors.
And we wouldn't want that, now, would we?
You might want to bookmark this page so it's readily available should the urge to write come on suddenly.
I can only write when I have at least four hours of uninterrupted time. I only have three hours and forty-two minutes so I'll just Twitter instead.
The kids need to be fed. Okay, not right now, but eventually… and that takes a lot of forethought. I mean, do you even have kids? So what would you know about it anyway!?
My laptop keyboard is too sprongy. I can't write on a sprongy keyboard. I need a new laptop before I can write another word.
I don't have any ideas left. A Franciscan monk/ninja snuck into my bedroom last night and stole them from me because he's tired of the monastic/ninja lifestyle and wants to be a famous (though still somewhat reclusive) author whose novels are so well-loved he gets invited to appear on Letterman where he's asked to read a couple pages (just like David Sedaris does with his creative non-fiction) and before his segment – while he's still in the green room – he meets Juliette Binoche and they hit it off and eventually run away to live in Sweden where they form a death metal band that becomes (in)famous for writing and performing terribly long and boring songs based on his bestselling books. Okay, fine. I guess he didn't take every idea. I suppose I could write a novel about a monk/ninja/novelist… damn. Now I only have three hours of uninterrupted time.
My muse left me for another writer.
Tivo.
Someone just published a book using the title I wanted for my novel. Now I feel empty inside.
See you soon. If the apocalypse doesn't come first. Ooh… wait, that reminds me. Bonus excuse #8: I can't write because the apocalypse could come any time and so what's the point, really?
Peace. And enter the contest already, wouldya?