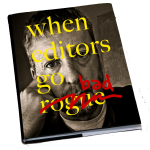 If you've been reading my little blog for any length of time, you already know that editors aren't prefect. [Yes, I just wrote "prefect." Squirming yet?]
As evidence of this, I present to you some of the most common mistakes editors make. By "editors" I mean me. And by "mistakes" I mean errors in judgment prompted by sleep deprivation, excessive drinking, lack of confidence in the job, or plain ol' incompetence. I've given each of the editorial screw-ups a title, but these are only my made-up titles and are not the terms officially sanctioned by the National Governing Board of Freelance Editors (NGBFE), which I don't think exists, but if it did I would already be reaching for my wallet to pay a fine for my contextually inappropriate abbreviation of "old" in the previous sentence.
Never Say Never – It's so easy to do and it seems so right, we don't think twice. We just do it. And the thing is, it's quite often the right thing to do. But…not always. I'm talking about trimming adverbs. You see, we've read all the books, too – the ones that say adverbs are badverbs. Or something like that. So we cut 'em out of habit. Even when we shouldn't. We make similar mistakes when applying other Rules of Good Writing, like getting rid of all semi-colons or universally suggesting all "tell" copy needs to "show." Thankfully, this sort of mistake only happens when we've been editing for 24 hours straight. Which we aren't supposed to do, according to the NGBFE.
Exterminate! Exterminate! – Despite the fact that the title is a reference to Dr. Who's Daleks, this editorial no-no has nothing to do with science fiction and instead is a subset of what I lovingly call The Goldilocks Compendium. (Actually, I've never called it that until just now. And because of that little lie, I can expect another fine from the NGBFE.) Exterminate! Exterminate! is all about being "too hard" on a manuscript. It's about cutting. (Not the kind that people do when they're emotionally unstable, though it must be acknowledged that all editors are emotionally unstable and probably would resort to this sort of cutting if not for coffee, wine, and chocolate.) This is the arena where I am most roguish. If I had a sweatshirt with my editorial mantra on it, it would say "Less is more." I think it would be dark gray, with a half-zip collar and white lettering. I celebrate the economy of words, perhaps to a fault (except in blogposts, where I overwrite to my heart's content). Maybe this is why Twitter is fun for me. Anyway, when I come across a big paragraph, my eyes get bigger still and out comes the X-acto knife of death. Cut, cut, snip, snip. And now it's just a single sentence. There's nothing wrong with cutting extra words (most people use too many), but I run the risk of cutting away the pretty colors in a manuscript if I'm not careful.
Intimidate! Intimidate! – Part two of The Goldilocks Compendium is a corollary to the above: going too soft on a manuscript. I'll admit I can be intimidated by good authors. I'll read an amazing manuscript and think, "damn, that's good," and question my editorial skills and my sanity and my salvation and wonder if I have the right to touch any words at all. Usually, on a second pass, I discover areas for improvement and make those edits and recommendations. But sometimes I'm not tough enough on what's there. It works, so why change it? Well, here's a good reason: to bump it from good to great, or great to excellent. This is why I'm (eventually, though never soon enough) paid the (not really) big bucks. And this where an editor's art and uncertainty walk hand in hand like young lovers. (No, I don't have a clue what that means.) Hopefully, more often than not, I make the right call. But I am always thankful, if a little sheepish, when an author says, "Hey, you missed something. I think we could actually cut this (or add this, or change this)" after I'd already let it slide.
My Word Is Better Than Your Word – I think this is self-explanatory. But I'll explain it anyway. Sometimes an editor replaces a perfectly good word just for the hell of it. [Note to NGBFE: I"m kidding. Officially.] Okay, that's not usually why. They replace the word because they like it better. I have my word preferences and you have yours. Most of the time, yours work just fine. But sometimes, I'll read yours and think, "Really? 'Crepuscular?' Why?" And then I'll change yours to mine because I'm the editor and I'm supposed to know what's best for you. Normally, I'll realize my selfish ways before I finish editing and you'll never see my words because I'll change them back to what you had. Unless there's defensible benefit to changing your word, I don't need to touch it.
Whose Voice Is It Anyway? – Some authors have clearly defined voices. When I read their manuscripts, I hear exactly what they sound like and can attenuate my editing to match that voice. However, when I work on a manuscript where the voice isn't so distinct, I sometimes make this editorial blunder: I apply my writer's voice (or one of them, anyway, considering I suffer from Multiple Author Voice Syndrome). That's not the right thing to do. In these cases, it's the editor's responsibility (according to NGBFE statute 27.1, subsection R.) to help the author find and then maintain his or her voice throughout the manuscript. This is easier said than done, by the way.
Missing the Point Completely – Sometimes Editors Miss the Point Completely. An author may have constructed a perfectly reasonable plot or created a perfectly believable character, but the editor Just Doesn't Get It. And in their attempt to fix The Thing They Just Don't Get, the editor makes things worse. I don't have a Really Good Excuse for why this happens. Let's just go with, Editors Are Human and follow that up with Humans Are Imperfect and leave it at that. Here's the good news, though – Alexander Graham Bell invented the telephone. Then someone invented the Internet. Now editors and authors can Talk About Stuff and Clarify Things They Just Don't Understand. [Another note to NGBFE: I've already calculated the fees for excessive capitalization. You'll be receiving payment in approximately six to twelve-hundred weeks, depending on when my accounting department can get to it.]
Other Stuff – We add typos. We miss continuity errors. We break a plot when trying to fix it somewhere else. We change the color of your protagonist's hair. We get fingerprints on the printed manuscript. We remove all references to Al Gore. We add references to Al Gore. We write whole sections for you instead of simply noting in a comment what we think is missing. We can be lazy and careless.
But mostly we try really hard to do everything we can to make your book the best book you've ever written.
That's all for today. I need to go screw up edit a manuscript now. Thanks for coming. Please deposit your 3-D glasses in the bin at the end of the hallway on your way out.